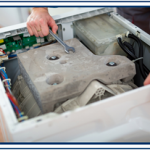 Daniel's Appliance Service is your reliable repair service provider. Our company is a fully licensed and insured business established in 1994. For 22 years, we have been providing high-quality service to residential customers and small business owners in all the suburban areas of Melbourne, Victoria. You can count on us to set high standards for every job.

We cover all of Melbourne North South East or West. We offer same day service to most suburbs if bookings are made before 11am. Please call us on 180 631 029 or directly on 0407 496 752. 
We repair and service all brands of Washing machines, Dishwashers, Dryers & Electric Ovens. Some of the popular makes we repair are; Asko: AEG: Ariston: Blanco: Bendix : Electrolux: Dishlex: Whirlpool: Miele : Westinghouse: Simpson: Hoover: Bosch: 
Please call us for all your reapir & Service needs.
Efficient & on Time Service
Provide Warranty on Most Parts
Daniel's Appliance Service provides expert appliance repairs
We offer credible solutions to different problems of any brand of appliance. We have been operating since 1994.